Our pick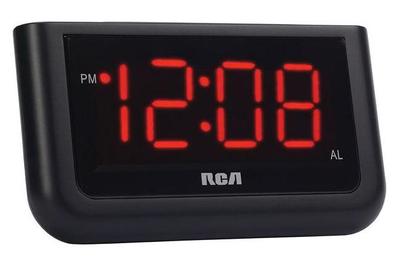 Our most affordable pick, the RCA has an easy-to-read display and a very loud alarm that will wake even the deepest sleepers.
Best for: Anyone who doesn't want to spend a lot of money, prefers a huge digital display, and just wants the basics all done right.
Why it's great: The RCA RCD30 is an affordable digital alarm clock with a bright display, an easy-to-use button layout, and an alarm loud enough to wake even heavy sleepers. It's also the least expensive model that we tested, making it an easy choice when you need something cheap and dependable, like for a guest room or a vacation rental.
The RCA is a basic unit, but it has all you really need in an alarm clock. It's one of the smallest clocks we considered, so it won't take up much room on your nightstand. But it's also easy to read, with a 3.75-by-1.4-inch illuminated display that's visible in daylight and at night from at least 20 feet away. The large display size is a boon for people who wear glasses because there's no need to fumble for them in order to check the time. If a big display keeps you up at night, know that the RCD30 does offer a dimmer setting.
The no-frills RCA is also easier to use than other, more complicated clocks we tested. It has a large snooze button across the top, so you can usually hit it without much trouble. On the back, there are three switches: one for setting the time and alarm, one for dimming the front display, and one for turning the alarm on and off. The alarm emits a loud, constant beep that can be heard from at least 20 feet away. That wake-up call continues until you shut off the alarm or hit snooze, which provides an extra nine minutes of slumber every time you press it—for well over an hour.
The RCD30 also comes with the option for backup via a 9-volt battery, so you won't lose your settings if the power goes out at 2 a.m. Like most of the alarm clocks we tested, when the RCD30 is using only battery power, it will not display the time, but the alarm will still go off.
Flaws but not dealbreakers: A few of the alarm clocks we reviewed have up and down buttons for setting the time. The RCA does not. The minute and hour buttons go in only one direction, so if you get distracted while setting the time and go too far, you'll need to cycle through again. This is not unique to the RCA, though; setting the alarm with the Alessi Optic 02 B presented a similarly frustrating, "careful, don't miss it" experience.
Materials: plastic
Finishes/colors: black, white
Dimensions: 5 by 4 by 6 inches
Power: corded electric
Price: $10