Our pick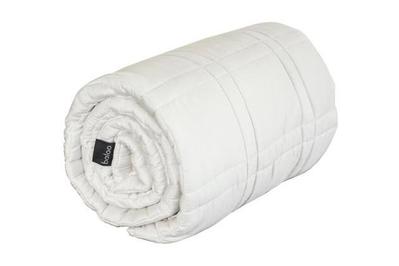 This well-balanced, crisp, quilt-like blanket holds its own on a well-dressed bed, and it can go in the washer and dryer. The linen duvet cover, sold separately, is gorgeous, but it could use a few more loops to hold it in place.
Buying Options
*At the time of publishing, the price was $153.
Best for: People looking for a weighted blanket that has a bedroom vibe as opposed to a living-room one, and those who prefer the easiest possible upkeep.
How it feels: Like a cross between a quilt and a comforter.

Why it's great: The cotton cover feels sturdy, soft, and smooth. Like most weighted blankets, this one gets its poundage from small glass microbeads sewn into "pockets." But rather than the rows of 5-inch-or-so squares, the Baloo's pockets are a mix of three geometric shapes, including smaller squares that keep beads from pooling. The result is a crisp, smart-looking weighted blanket that looks almost like a quilt.
Testers like the smooth feel of the blanket's covering, and we appreciate that the stitching is sturdy and close compared with that of cheaper options. "It feels like a nice-quality cotton compared to the Luna"—the least-expensive blanket we recommend—said one tester who picked the Baloo over all the others.
The Baloo's best feature, though, is that it is machine-washable and -dryable—a rarity for weighted blankets made with glass beads. Baloo's founder tells us that sturdier cotton as well as cotton lining batting make this possible. We put the blanket through a wash-and-dry cycle, and it emerged in good shape; as with all of our picks, we'll continue to long-term test it and provide ongoing updates. If you have kids, pets, or a penchant for eating under your blanket, you may want to save your strength and curtail how often you wash this blanket by covering it with its machine-washable and -dryable duvet cover, sold separately. Linen is your only choice, but the duvet cover does come in an array of soothing shades (cool neutrals and pretty pastels), and it feels nice on the skin.
Finally, Baloo accepts returns within 30 days, even if you've used the blanket. Rather than requiring that the blanket be in "new" condition or in original packaging, the company lets you return it—regardless of what shape it's in—for a full refund, minus the shipping cost, which is around $11 for a 15-pound blanket. There's also a lifetime guarantee on materials and workmanship.
The Baloo has garnered some of the most enthusiastic reviews among testers who've tried it for an extended period of time. One long-term tester reported that the cover has remained in good shape over the past three months, buttons and all, even after a machine-wash-and-dry cycle. Another tester reports that he even used the Baloo during the summer and it didn't feel hot.
Flaws but not dealbreakers: The duvet cover is held in place by just two loops on the short ends and three on the sides, and by buttons (they look like they could have been stitched more securely) at the bottom, which means you can expect some gaping in between. "I really don't like the way it bunches up," said one tester. And it's not cheap: A queen-size blanket and a duvet cover together cost close to $300 at the time of publication. If you don't mind the bare-white quilted look or the possibility of having to wash the blanket itself more frequently, you can cut the total cost by about 40 percent by forgoing a cover.
You'll save even more money if you go for the 12-pound 42" x 72" throw blanket ($149 at the time of publication). Though it's smaller, it feels about as heavy on your body as the 15-pound queen. Given its smaller size and lighter weight, the roughly twin- size blanket is less cumbersome to wash and dry, and it's ideal if your sleep partner doesn't like the weight.
The additional batting (recently switched from polyester to cotton) in all of Baloo's weighted blankets prevents the weight from hugging your body as closely as blankets without such filler. But on the plus side, the filler can help keep the beads from tumbling out in the event of a rip. It can also help keep the blanket from feeling like a beanbag, a common complaint our testers had about many of the other bead-filled blankets we tested.
Sizes: 12 pounds (throw; 42" x 72"), 15 or 20 pounds (queen/full; 60" x 80)", 25 pounds (king; 80" x 87")
Materials: glass microbead filling, cotton lining, batting, and cover
Color: white