As of 2020, a lot of cordless vacuums are (finally) pretty good, so there are decent options for different homes and tastes. This is great, because even the best models from a few years ago left a lot of people unhappy.
We're recommending two models each within three different price tiers (so six vacuums total). In each tier, one pick prioritizes cleaning ability (particularly on carpets), and the other is focused on comfort, convenience, and ease of use. Based on specs, reviews, experience with older models from some brands, and reader requests, we've tested more than 20 models that are currently available, including the Dyson V7 Motorhead, Dyson V8 Absolute, Dyson Cyclone V10 Animal, Dyson V11 Torque Drive, Dyson V11 Outsize, Shark Ion F80 MultiFlex, Shark Rocket Pet Pro, Tineco A10 Master, Tineco Pure One S11, LG CordZero A9 (and the similar A9 Kompressor), Ryobi ONE+ EverCharge, Black+Decker PowerSeries Extreme, Bissell AirRam, Bissell IconPet Pro, Roborock H6 Adapt, Hoover OnePwr Evolve Pet, Eufy S11 Infinity, Eureka Stylus Premium, Miele Triflex HX1 Pro, Moosoo XL-618A, Aposen H250, and a handful of others over the past couple of years.
Here's how we evaluated them:
Cleaning ability
Carpet-cleaning performance was our main focus—it's a vacuum's most important job, after all. Plenty of cordless vacuums work well on short rugs with debris like crumbs, grit, and most hair. The real test is how a vacuum performs on longer, denser rugs, since most models struggle to dig out clingy debris (like dust or embedded hair) from these types of fibers.
Using different suction settings (when they're available), we test how each vacuum performs on all types of rugs with several types of debris. The main tests we run measure performance on both a loose, low-pile rug and a dense, plush, medium-pile rug, by weighing how much of a 45-gram mixed batch of sand and baking soda each vacuum can pick up.
But there's nothing like a real-world mess, so I also let the rugs around my house (a mix of all types) get dirty for a few weeks (lots of long cat and human hair, plus toddler crumbs) before a big batch of testing. Then I try out the top performers from the first trials.
Bare-floor performance is important, too. Although most models will completely clean uncarpeted surfaces after a few passes, not many will grab everything on the first or second push. Snowplowing—when big debris, like Cheerios or mulch, gets pushed around by a low-riding cleaning head—is a common problem at every price. (Some models struggle with big debris even if you plop the cleaning head right on top of the mess.) Most sticks don't have the option to turn off the brush roll, so they tend to scatter debris like cat litter (though there's usually a workaround, such as a special brush or just removing the cleaning head). It's also hit or miss as to whether a model will reliably clean up powdery debris, particularly when it's stuck in gaps between floorboards.
On bare floors, we tested each stick to see how well it did with Cheerios, cat litter, and a thin layer of flour. We found that a headlight really helped with the flour pickup in this test, as well as with other dusty debris and hair in general, simply because we could see it, so we were less likely to accidentally skip over it.
For what it's worth, specs and measurements of raw power do not reliably tell you how well a vacuum works. We tested most models' suction with a specialized gauge and some models' airflow with an anemometer. We also made a note of each model's advertised cleaning power, typically displayed in kilopascals (a measurement of suction) or air watts (a blend of suction and airflow), though sometimes the vacuum's motor wattage is the only spec available. All we really learned was that you can't count on any of these figures to tell you how effective a vacuum will be. More suction tends to help, but there are plenty of models with relatively weak suction (at least according to our tests) that picked up much more debris than models with stronger suction or airflow. Clearly, the brush roll and cleaning head design play a huge part in cleaning performance.
Comfort, convenience, and ease of use
Cordless vacuums tend to be lightweight, slim, and easy to steer, even in cramped areas. That's great for pretty much anyone in any home. It's especially handy if you need to carry your vacuum between different levels (and to clean the stairs in between), or if you have a tight floor plan with a lot of walls and furniture (as many small apartments do). The lightest cordless sticks are just a few pounds, and even the beefiest models weigh about as much as small plug-in uprights.
However, a lot of popular cordless sticks are top-heavy, with the bulk of the weight resting in your hand rather than near the floor. Certain models also have trigger-style power switches that need to be squeezed constantly to keep the vacuum running (Dyson models, most notably). By the end of a long cleaning session, that combination can be uncomfortable for anyone, and it can be especially painful for people with chronic wrist, hand, or forearm pain.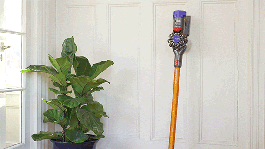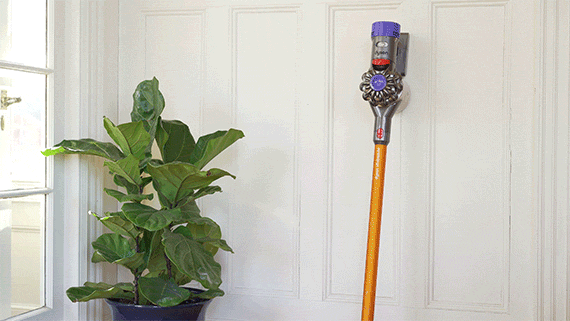 The good news is that as of 2020, there are plenty of models with better weight distribution and standard toggle-type power switches. You can now buy a great cordless machine that's relatively comfortable to handle, if that's your priority.
We paid close attention to how comfortable it was to clean with each vacuum; several of our picks are among the easiest-to-handle models that also offer good cleaning performance for the price.
Other sources of either delight or dismay that we looked for included: what it's like to empty the dust bin; whether the vacuum can stand up on its own, in an included floor stand, or in a wall-mounted dock for storage; and the variety and usefulness of extra attachments that come with each vacuum.
Battery
Our rule of thumb for battery life: Take the square footage of your home and divide it by 50. That's how many minutes you'll need (give or take) to clean your whole place in a single session, including a quick pass over the upholstery and the occasional cobweb on the ceiling. So if your apartment is 1,150 square feet, you'll need about 23 minutes of battery life to clean it all in one go.
Most people will rarely need even that much run time. Cordless vacuums are convenient enough that owners seem to get into the habit of cleaning in shorter bursts—maybe whenever they notice a mess, or in one or two rooms at a time—rather than doing a whole-house cleanup once a week.
You can get a vacuum with extra battery life if you want it, but it's usually a value trap. The price of lithium batteries (which power most cordless vacuums) has fallen but is still high, and you can easily overpay for extra minutes you'll rarely use. There are some reasonably priced models with long run times, but they tend to be too weak to work well on rugs.
Most of the time, the advertised battery life is about the same as the real-life run time. We confirm this by running the vacuum with no breaks, on medium-pile carpet (these are the harshest conditions for a battery and should result in the shortest possible battery life).
You may find yourself trying to choose between built-in (or screw-in) battery packs and click-in (or swappable) battery packs. We don't think the distinction is very important for most people because, again, you probably don't need as much battery life as you think you will.
Click-in packs give you the flexibility to extend the run time as long as you want and to charge packs separately from the vacuum. But there's no guarantee that they're easier to replace than built-in packs; we've found plenty of instances where spare click-in packs become unavailable within a year. (Contrary to popular belief, built-in packs are usually replaceable with a screwdriver.) But if the type of pack matters to you, pick whichever you prefer—there are good vacuums in both styles, and we have recommendations for both types.
Reliability
This catch-all term includes day-to-day reliability, long-term durability, repairability, ease of maintenance, warranty coverage, and customer service.
Our take: The category is too new, with too many models coming out all the time, to draw strong conclusions here. Statistics are hard to come by (and those that are available are flawed), most brands haven't been around long enough to generate useful historical data, and the changes from model to model are often significant enough that the historical data isn't very useful anyway. We look at owner ratings on Amazon and at other retailers to try to figure out if there are any obvious design flaws or quality-control issues (though it's hard to spot any obvious patterns until a vacuum has been out for at least six months). Warranties and customer service are hit or miss across all brands.
On the plus side, basic maintenance tends to be simple, and you'll rarely, if ever, have to replace consumable parts like filters or brush belts.
Our best guess is that you'll get something like three to five years of good use out of a typical cordless vacuum (depending on how you use it) before you need to replace an expensive part like the battery or cleaning head.
Filtration
This was not a major distinguishing factor in our picks. That's partly because vacuums with poor filtration tend to be bad at a lot of other things a vacuum is supposed to do. But also, restrictions due to the coronavirus pandemic kept us out of our test space, which has air-quality-monitoring equipment, so we weren't able to test for this. In the meantime, the filtration tests in Vacuum Wars's video reviews are worth checking out. And in general, if you have serious allergies or asthma, the conventional wisdom is that you'll be better off with a vacuum that collects debris in a self-sealing, disposable bag (or that uses water filtration).